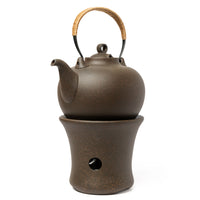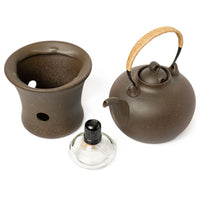 These beautiful sets were designed by our own Peter Kuo, Da Qian Studio, who has been featured in our magazine, done shows with our community in the United States and also designed our white and amber bowls. These amazing kettles are absolutely stunning and work like a charm.
These kettles make incredibly smooth water. The pour is amazing for gongfu tea or bowl tea and the iron cast handles with hemp wrap are a pleasure to hold, especially with your index finger extended, as we do in our lineage. Peter also made the button hollow, suggesting that you use a tea utensil or a stick to grab the lid when it is hot.
Every set comes with a glass alcohol burner. Use this kettle on gas, infrared, charcoal or alcohol and take care to make sure it is empty after every use.
This kettle set only ships domestically in the United States. If you are interested in ordering one to a different country please contact us at connect@globalteahut.org.