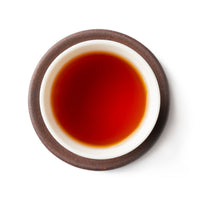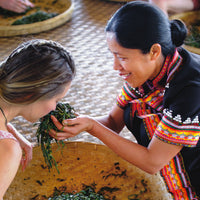 This amazing tea is from old-growth trees of the Ai Lao Mountain range in Yunnan, China. This legendary tea is made by our dear tea auntie, Ai Li Juan, who is a member of the Ku Chuong tribe from the village of Qian Jia Zhai. She loves tea and her culture. In fact, a vast amount of the funds she raises from the production of old-growth Puerh is being devoted to preserving Ku Chuong cultural heritage, from weaving to singing and dancing. Along with the sheng version,
Mountain Spring
, Daughter of the Forest is a beautiful example of clean old-growth tea from Ai Lao.
Daughter of the Forest is slightly sour, with a thick and sweet boldness. It has a very rich and deep bouquet of fruits, flowers and sour citrus. The energy is bold and strong, lasting the whole morning. This is an incredible dian hong, indeed!