Su Shui Ding (蘇水定)
Mr. Su grows Elevation assam large-leaf red tea and Ruby Red, Taiwan 18 at his farm in Sun Moon Lake. He has a deep love for Nature. He grows only living tea in harmony with Nature. He even purchased the adjacent lands, through years of saving, as he was concerned that the agricultural practices of his immediate neighbors would influence his own beloved tea. While other farmers around him have grown rich by turning their mountains back into conventional plantations with high yields, Mr. Su has stayed committed to organic, healthy farming. It is one thing to work hard and create living tea when everyone is doing it, and another to drive past the wealth that compromise offers every time you leave and return home and still choose the way of Nature, or as Mr. Su says, "the way of my father." Several years ago, we decided to do something to avoid armchair sustainability, talking too much about large-scale change while ignoring that farmers are real people with real families to support. We approached Mr. Su and offered to buy out whatever tea he had remaining unsold at the end of each year. He was always complaining that he had poor marketing skills and wasn't a businessman, just a farmer. This gave him the security to be a farmer. He cried when we told him. For the last seven years or so, we have fulfilled that obligation. What's more, we have sent his tea to you one month every year, which means your Global Tea Hut subscription supports this project to change one farmer's life!
Xie Yuan Zai (謝元在)
Mr. Xie is a third-generation farmer in Mingjian, Nantou, Central Taiwan. He crafts our Calm Fragrance oolong and red teas, as well as Cloud Temple green tea. In the past few decades, such lower-altitude tea has been eclipsed by the popularity of the teas grown higher up. Mr. Xie's family has grown small-scale productions of oolong tea through three lifetimes, since before many of the higher-altitude teas even existed. Mr. Xie has been an organic tea farmer since 1997. He converted due to the health problems agrochemicals were causing in his wife. He questioned whether he could sell such tea to others knowing what these chemicals could do. In the beginning, he faced a lot of struggles to maintain his principles. His tea was lower quality and he lost almost all his customers. His father, who had been worried when he suggested upsetting the status quo in the first place, was very critical of his decisions. During this time, rather than giving up as many would have done, he got a part-time job as a painter and carpenter, working day and night—either painting or farming—to keep his family afloat. Finally, in the early 2000s, his acumen for organic farming improved to the point that he was able to take his teas to market again. Since then, he has gone on to win awards, been featured on TV and has even heard his father bragging to others about how his tea is organic and good for the environment. Mr. Xie's work hasn't stopped with his own farm. He knew that he would have to keep improving his skills, creating new and better teas, and help show his neighbors the value of organic farming, especially since their land and his are close enough to influence each other. He formed a co-op with other farmers and began teaching locals to shift to organic methods, offering them equal shares in their combined enterprise. As more people have joined this local group, the incentive to do so has also increased. To date, several farmers in the Mingjian region have joined him in organic farming, including Mr. Xie's immediate neighbors.
Yu San He (余三和)
Yu San He has been growing tea organically for more than ten years in Pinglin, Northern Taiwan. Great amounts of pesticides and chemical fertilizers are used in Taiwan, to the detriment of the ecosystem and the future of tea production in the region. Master Yu decided long ago to stop being a part of this problem and has since become a bright example of someone who can produce fine tea without polluting the environment. He's also become rather well known, with several magazine and newspaper articles covering the positive impact he's having on the region. Master Yu proudly refers to his tea farm as the "Respect for Great Nature Farm (對大自然農場的崇敬)." Yu San He's bright spirit shines through his land and tea. It is a beautiful demonstration of how tea is a merging of Heaven, Earth and Human. Walking through his gardens, you can feel the influence that the farmer has on the land he stewards. Tea is a conversation between Human and Nature, and Master Yu's tea is a beautiful discussion about gratitude and love. 
Ai Li Juan (艾麗娟)
Ai Li Juan is a member of the Ku Chuong tribe from the village of Qian Jia Zhai (千家寨), which literally means "Thousands of Families Village." It is located in Jiu Jia Township, Zhenyuan County, in the heart of the Ai Lao range. She produced our teas Mountain Spring and Daughter of the Forest. There are around 16,000 people spread out over Jiu Jia Township, most of them rural farmers. Until recently, there were no roads to the village and everything was carried in and out by donkey. The elder generations still tell stories of those days, reminding their children and grandchildren not to take their modern amenities for granted. There are 4,700 acres of tea forests here at an altitude of 2,000 to 2,500 meters. Ai Li Juan has always made us feel like family, so much so that we came to know her as "Auntie Ai." She has housed and fed us, guided us to ancient tea trees and showered us with traditional songs and heartfelt smiles. Auntie Ai's tea is controlled by a co-op. There is little that any one individual can do to spoil the old-growth forest, its environment or any aspect of its processing without the other members of the group coming down on them. A portion of the sales from all tea grown in this forest, and 100% of the proceeds from the oldest trees there, all go to support the betterment of the whole tribe, and to preserve Ku Chuong culture. This means that personal greed cannot destroy what rightly belongs to no single human. Ms. Ai has been a member of the co-op in Qian Jia Zhai since 2005, tending to more than 400 hectares of tea. She loves tea and her culture. In fact, a vast amount of the funds she raises from the production of old-growth Puerh is being devoted to preserving Ku Chuong cultural heritage, from weaving to singing and dancing.
Tsai Ming Xun (蔡明勳)
Tsai Ming Xun was born in 1963 in Zhiayi, Taiwan. At a very young age, he fell in love with all things tea, teaware and antiques. He opened a teahouse in 1985 at the age of twenty-two. He had gone down to Tainan for school and so chose that for the location of his tea house. In those days, tea and all things cultural were booming and the teahouse thrived. After ten years, the tea house craze in Taiwan started declining and the entire tea market was subsiding. Mr. Tsai carried on for another five years before making a decision to convert the teahouse into a shop and just sell tea for a living. He has carried on selling tea at the same location until now, making his tea spot more than thirty years old. After the severe earthquake of 1999, much of central Taiwan was destroyed. Many tea areas were negatively impacted, and tea lovers of all kinds pitched in to help out in different ways. At that time, Mr. Tsai bought up three small tea farms on Li Shan to help give those families a chance to start over in the city. He worked together with other locals but says that he gave up on that after a few years. "At that time, and sometimes still today, local farmers have a very different view of tea than us. They just see it as a cash crop, not knowing how much passion and culture there is in tea. They don't love it the way we do." For that reason, he started out making tea himself with the help of some employees he hired to help him maintain the gardens and to harvest when the time came. Mr. Tsai roasts all the tea for his teahouse himself and has developed a reputation as one of the best tea roasters in Taiwan, winning competitions along the way. He produced and roasted our teas Melody, Chorus, Euphony, Li Shan Tieguanyin and the red tea Plum Blossom.
Huang Xian Yi (黃賢義)
Huang Xian Yi's family made all our Cliff Tea. He was the eleventh generation in a lineage of tea masters from Wuyi. He was born in 1949. As a boy he hopped from stone to stone to get to school at the Tian Shin Monastery. He went on to boarding school in the local town for five days a week but later returned home when the school closed for lack of students. He began helping his father farm vegetables and tea. In the early 1990's, he began to put his heart fully into a life of tea with an earnest desire to master all the skills needed to produce the best teas he could. He sold his teas by the packet to tourists outside his home at the Water Curtain Cave (Shui Lian Dong,水簾洞), also serving boiled bowl tea for a few pennies a bowl. After the family was moved out of the park in the late 1990's, he made a decision to move more and more into hand-processed tea, preserving the traditional tea making skills passed down so many years. His brand Rui Quan (瑞泉) has since gone on to great fame in Wuyi. Huang Xian Yi passed away in 2020. He was one of the greatest tea makers we have ever met, committed to preserving the heritage of Wuyi Cliff Tea and to passing on traditional handmade tea skills to future generations. He was always smiling, kind and open to sharing his love for tea. Even after a year away, he would grab your arm and pull you inside to tell you about this year's tea as though you were a neighbor whom he had just seen yesterday. A lot of heritage, knowledge and skill has left this world with him, traveling to the stars to become one of the constellations and legends that guide Chajin thence. Master Huang was also a dear and beloved friend. "Lao Die," as we affectionately called him, always supported Global Tea Hut and we felt so very honored to have been touched by his spirit and uplifted by his knowledge. He was amongst the most important teachers of our lifetime, and even a thousand bowls could never repay what he has given us…
Huang Sheng Hui (黃聖輝)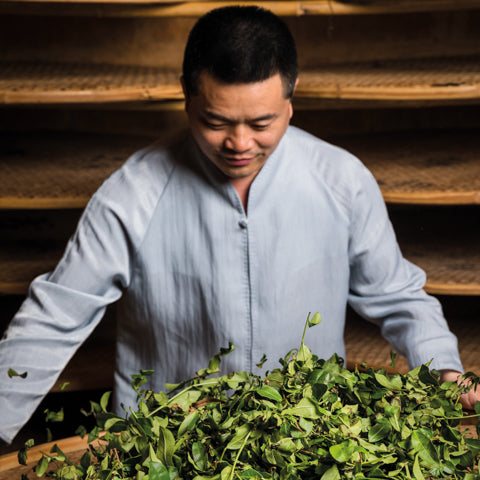 The eldest son of the Huangs, Sheng Hui was born in 1973. He also grew up in the park, walking to the neighboring elementary school, which only had nine students. When he was young, his grandma would take him to all the many temples around the Wuyi area, and the boy proved to be a devout Buddhist. When he was twenty he moved into the monastery to study Buddhism and volunteer. He lived there for nearly six years before coming back home to help in the family business. He married his wife in 2000. She is related to the abbot of the Tian Shin Monastery, who asked them to take over care of their guesthouse outside the park in 2002. In that year, Sheng Hui moved with his wife and baby into the Buddhist guesthouse where they still reside today. Despite their success, Sheng Hui lives modestly, using the guest house to host friends from all over China (and now the world) every year. He loves kindness and hospitality. He is one of those magical people that make you feel special when you're around him. Like his father, he has placed Tea above all else in his life, with a devotion that is inspiring and infectious to be around.
Gao Dingshi (高定石)
Gao Dingshi is a hero in Taiwan. After his father passed away as a result of pesticide poisoning, he became one of the world's greatest advocates for clean, pure tea—taking "organic" beyond the confines of the usual definition, allowing his gardens to grow wild and untouched by human intervention. His tea and way of life are incredibly inspiring. He had a severe stutter when he was young and as a result couldn't speak very well. At a very early age, he realized that if he slowed down his mind and spoke slowly, he wouldn't stutter. In that way, he cured himself of his stutter and also changed the way his mind works. Master Gao moves slowly. He is amazing to drink tea with, as his preparation is so slow and mindful it changes the room. His tea is legendary, grown in wild gardens in Si Ding (石碇), in northern Taiwan. Master Gao is a friend and teacher to us, and has helped us to understand much of what we know about sustainability, tea ecology and living tea. He has also shaped the way we approach tea, as Nature and as medicine, and shifted the way we brew tea as well.
Tsai Yizhe (蔡奕哲)
Many of you who have been to our Center know about the great influence Master Tsai Yizhe has had on all that we do. He is our teacher, brother and a great tea sage. He shares tea and wisdom with a spirit of hospitality that most tea lovers have encountered, freely given the way tea trees open their crown and offer leaves to passersby. His work to protect the environment of Taiwan has earned him our ever-lasting esteem. His works continue to inspire us. Through his preservation efforts, Master Tsai established the Tea Mountain Preservation Society (茶山 保育協會), which works together with farmers around Taiwan and mainland China to create mutually beneficial connections between tea lovers like us and farmers. In exchange for stewarding the land sustainably in ecologically sound ways, the association agrees to buy the entire production from the farm every year. This connects tea lovers to the source of their tea and removes the financial strain from the farmer, allowing them to focus on stewarding the land and crafting fine tea. It is a win-win situation and one we have been supporting since we had the honor to meet Master Tsai.
Gu Cheng Gan (古乘乾)
Master Gu Cheng Gan is a fourth-generation Eastern Beauty farmer in Beipu Taiwan who has, like his father before him, worked incredibly hard to preserve tea culture. Master Gu was born in the Year of the Rooster, 1969. He grew up amongst tea, harvesting and processing from an early age. He is a Hakka, and much of his life's work has been to preserve Hakka culture. With the proceeds from his tea, he promotes food, traditional crafts, music and the preservation of the Hakka language. Hakka people are very hospitable, kind and simple people, with a history of farming, and a love of the Earth and each other. They really treat guests with sacred hospitality, which is the spirit of tea and our Center. And their story is a big part of Master Gu's own story. Master Gu and his family have worked hard and expanded their traditional holdings. With savings and years of hard work, they were able to revitalize Beipu's Eastern Beauty production. In 2000, Master Gu's Bao Ji Tea Company (寶記) bought back the first of several abandoned Eastern Beauty farms, cleared several hectares and planted saplings there. They have thrived and are beginning to produce tea again. They tend these gardens with great care even today. Master Gu's organic Eastern Beauty is a real treat, as is any time we share in his company. He does a lot to promote sustainable agriculture that protects Nature and traditional culture. He is simple, genuine and giving and has taught us a lot about tea.
Chen Lianggu (陳兩固)
Chen Lianggu was born in 1965, the Year of the Snake, in the small Huaichuan Village (槐川村) in Gande Township (感德鎮), Anxi. At 500 meters above sea level, the small village still boasts fresh air, clean water and vibrant gardens all throughout. Around ten to twelve years ago, as the mountain forests were retreating from human encroachment, Master Chen decided to get involved. He purchased three large swaths of forest to protect, which was quite the investment: Yun Zhong Shan (雲中山), Xing Shi Shan (醒師山) and Bi Jia Shan (笔架山)—all large forests covered in wild tea. The trees here are all wild, self- and seed-propagated trees mostly related to Shuixian and Tieguanyin varietals. Sometimes the term "wild" is used loosely, especially in the puerh industry, but our meaning is tea that is self-propagated, even if the original trees were brought here long ago by humans. And Master Chen's forests are most certainly wild! Though Master Chen also grows organic plantation tea his passion is for his wild tea. The old trees are harvested only once a year, and the trees are carefully monitored to make sure that they are never over-harvested. Most of the trees need to be climbed, requiring scaffolding. It takes thirty people a week to harvest these gardens, while seven others, along with Master Chen, process the tea by hand. Over the last few years, Master Chen has won many awards for his tea and grown to great fame. He is now a "Grandmaster (大師)" in the eyes of the local tea industry and the government. Others have even begun to follow in his footsteps, protecting and using wild tea. Master Chen is an inspiration and guide to the world, and he has taught us so much about tea.
Lu Li Zhen ( 呂禮臻)
Lu Li Zhen was born on June 6th, 1952 in Xin Bei, the very north of Taiwan. Master Lu's uncle owned a tea shop in Ban Chiao. For more than thirty years now, Master Lu has roasted and sold his tea in Taiwan, Hong Kong, China, Japan and more recently to Europe, especially Germany, where he often travels to give lectures. During that time, he has helped spread tea culture and awareness through many, many tea gatherings he participated in or hosted himself. Master Lu roasts all the oolongs he sells in his shop, following a tradition where the farmers in Taiwan produced "maocha," or "rough/unfinished tea," that the tea shops then roasted to their clients' tastes. Nowadays, there are very few tea shops left that do their own roasting. Some may roast a tea or two for fun or as a specialty item, but there aren't many that roast all their teas the way Master Lu Li Zhen does. Master Lu doesn't just roast his teas, he does so masterfully with decades of skill and has won several tea competitions for his work. We are honored to offer two of his teas masterfully roasted oolongs, Pärand and Buddha's Palm.