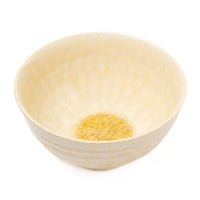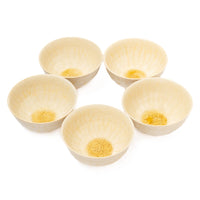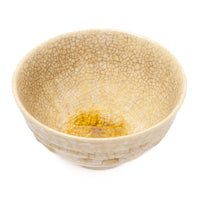 These beautiful bowls were made by our dear friend Peter Kuo's studio. These bowls are coated in a gorgeous shino glaze that drips down the sides of the bowl, pooling in the middle like amber.
One of the traditional "joy's of a tea lover" is, of course, seasoning teaware—watching your pots, cups and bowls change over time as you use them. These bowls will season much more quickly than our white bowls as the tea oils seep into the cracks, and after a few tea sessions will begin to look like the final photo above with the cracks inside the bowl turning golden, brown and then black. It is a joyous experience to watch as these bowls transform.
Each set of five bowls comes with two hand-sewn cloths made by a seamstress here in Miaoli. One is a long white strip that is woven between the bowls from left to right and back, offering each bowl padding and protection for transportation. Then a square of Japanese cloth (in various patterns and colors) is used to bundle up the bowls so you can grab them and take them out with you.
These handmade bowls hold approximately 190ml.