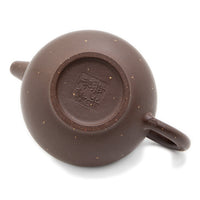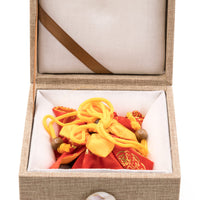 These gorgeous zisha (purple-sand) teapots are made from genuine forty-year-old clay. They are all handmade in cooperation between Master Zhou's two apprentices and Master Chen herself, who finished every single pot. Like Master Zhou, Chen Ju Fang is another of our teachers. She is a master of Yixingware in her own right. Their studio is called "Wu Xing Shan Fang" but we had "Light Meets Life" stamped on the bottom of these pots.
These pots are a copy of one of our teacher's favorite early-Qing Dynasty (1644-1911) teapots. The stars are actually flecks of duanni clay that are added to the zisha clay and rolled in before the pots are made. This style is aesthetically beautiful. The stars are only on the surface, so the inside is only zisha clay (to improve the tea). Each pot comes with a Global Tea Hut box and a certificate stating that the pots are handmade by Master Chen.
Each teapot holds 150ml volume.