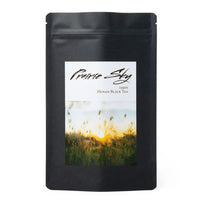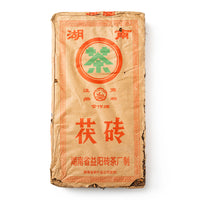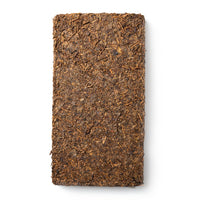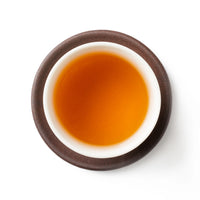 Prairie Sky is a 1990s fu cha brick black tea from Hunan. Most of the black tea produced in Hunan was exported to Tibet, Mongolia and other parts of Central Asia. Almost all the black tea in Hunan is made of huang pian, which are essentially the leaves left on the tree to grow. Much of what makes Hunanese black tea unique is the complicated processing, which includes more post-production fermentation than any other kind of tea. Of course, the qualities of any tea are as much in the terroir, the soil, climate and type of tree as the processing. Fu cha is very unique because it is made from summer leaves, left to grow on the trees longer. The varietals in Hunan are mostly medium-leaf—something between a small-leaf bush and the large-leaf varietals of Yunnan, which are used to make puerh. This effects the chemistry of the tea as well as the subtler, energetic properties, which we will discuss later.
Prairie Sky is a simple, ordinary and earthy tea. Old scrolls associated it with the earth and wood elements, in fact, and suggested that boiling this simple tea helped to ground us. Monks still boil this tea throughout China and even in Korea, arguing that it opens the channels and centralizes the body's energy. Brick tea harmonizes our bodies, especially when boiled, centering the flow of Qi through the channels and grounding force that can help to stabilize the digestion and bring balance to the body and spirit. This kind of brick tea is very simple, heralding back to less complex times when tea was boiled all day over an open fire, perhaps in an old wood kitchen or even a Mongolian horse-trader's tent—the open sky and prairie an infinity just beyond the flap.
Each bag is 100 grams.