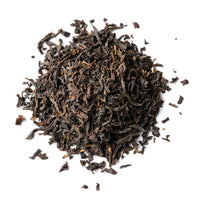 We call this old red tea "Aloft" in honor of its younger brother "Elevation." It is rare to find an aged red tea, let alone one stored well. Most aged red tea was not intentionally aged, like oolong. Most aged red tea was simply left in the back of a shop. This may mean the tea is low quality since it didn't sell when it was new. Unlike oolong, intentionally aging red tea has yet to become popular again. We hope to change that. Aged red tea is wonderful! And it is far less location sensitive than puerh or black tea, which means that those of you in dry climates can age red tea perfectly. Like oolong, it oxidizes, as opposed to puerh and black tea which oxidize and ferment as they age. Aged red teas are rich and bright, changing faster than oolong even. They are a treasure worthy of our space!
Aloft is an intentionally aged red tea of around twenty years. It was all bud sets, so the leaves are smaller than our Elevation, but it does come from a big-leaf varietal. At the time, before the large-leaf tea had gained such traction in the red tea market, Sun Moon Lake red tea was sorted like most red teas according to the amount of buds, or how "tippy" it was, in other words. This version is different from an earlier version of aged Sun Moon Lake tea we also called "Aloft," which was from small-leaf trees. 
Aloft is thick and rich, dark and malty, with some sourness as well, which is not uncommon for an aged red tea. With some steeping skill, you can minimize the sourness and bring out more tart, berry flavors. The Qi is magnificent, rolling upwards in beautiful and peaceful waves. This makes for a long session of beautiful tea memories.