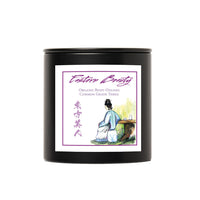 Eastern Beauty Common Grade
We have three new exceptional Eastern Beauty teas from the birthplace of Eastern Beauty in Northern Taiwan, Beipu. Eastern Beauty is also known as White Bud Oolong (Bai Hao Oolong) and sometimes "Liar's Tea (Peng Feng Cha)" since they say the neighbors of the first producer thought he was lying when he said he sold his bug-bitten summer tea for more than spring tea. The magic of Eastern Beauty starts with the leafhoppers who bite the leaves in the early summer. There are enzymes in their saliva which cause the leaves to begin to oxidize before they are even picked, turning red around the edges of the bites and growing at a crooked angle from the stem. These unique leaves are the ones used for Eastern Beauty. The plant responds by producing aromatic compounds that protect it, which also change the aroma and flavor of the leaves. This complex dance between environment, insects, tea and human is amazing, and one of many awe-inspiring aspects of the tea world!
Master Gu Cheng Gan is a fourth generation Eastern Beauty farmer who has, like his father before him, worked incredibly hard to preserve this amazing tea culture. Master Gu was born in the Year of the Rooster, 1969. He grew up amongst tea, harvesting and processing from an early age. He is a Hakka, and much of his life's work has been to preserve Hakka culture. With the proceeds from his tea, he promotes food, traditional crafts, music and the preservation of the Hakka language. Hakka people are one of the reasons that Wu De chose Miaoli as home, and why the Center was built here. They are very hospitable, kind and simple people, with a history of farming, and a love of the Earth and each other. They really treat guests with sacred hospitality, which is the spirit of tea and our Center. And their story is a big part of Master Gu's own story.
Eastern Beauty is the highest oxidized of all Oolong teas, in part because it begins oxidizing on the tree before it is picked, and in part because of the arduous withering process that begins as soon as the tea reaches the tea processing plant from the field. Mr. Gu, his son and a helper sleep but a few hours during the three weeks of annual Eastern Beauty production, as is the case with most traditional oolong producers who still follow Nature and harvest but once a year, as their entire year's income is dependent upon this tea.
We have three grades available, this one which is Common Grade and then a 
Middle Grade
and a
Top Grade
. You can also buy a
set
of all three. The grades are based on how many buds are used. The highest grades are bug-bitten buds picked at the perfect time of year. Master Gu organizes his teas into several grades, but even the most common ones are all wonderful. We have here a nice range for the simpler, middle tier and one from amongst the top grades. Getting all three in a set will help understand Eastern Beauty more deeply, and appreciate the magic of this amazing tea and the skills of Master Gu.
Each tin is 25 grams.