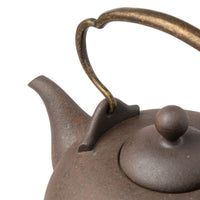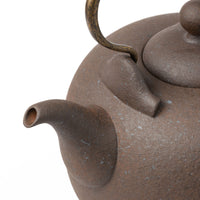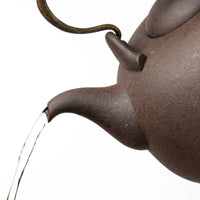 These wonderful kettles were created by one of Taiwan's most important potters, tea lover and dear friend, Deng Ding Sou. He has been crafting teaware for decades, and famous for using minerals and ores in his pots. One of the reasons we love his work has to do with the fact that he himself loves tea and all his innovations are based on experience drinking tea and finding solutions to his own love of tea preparation. In particular, he has focused on spouts and their influence on tea preparation. He says it took him seventeen years to make a spout he himself thought poured well. The spouts on these kettles are amongst the best we have ever tried—the pour is super smooth, fluent and graceful. Master Deng created the original piece, the mold and then engineered the results until they were to his standards. All of this work he donated to us, so we can just order the kettles at cost of materials.
These small kettles could be used for bowl tea but are really designed for gongfu tea. The smaller size means the water stays fresher and the incredible pour is perfect for brewing tea gongfu. At this price, it would be difficult to find a better kettle for gongfu tea. And the spout is amongst the best there is at any price!
This kettle holds approximately 1L.