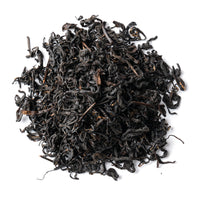 Red Sun Rising is an amazing example of beautiful Qimen red tea. It comes from a rich, organic and biodiverse garden. All of this biodiversity plays a huge role in the health of the land, the trees, and, of course, the leaves used to make this precious tea. It is amazing to walk amongst the healthy hills, breathing fresh air, and to find such healthy and happy tea trees thriving in such glorious surroundings. Bending over, you could see that there was a teeming world beneath each tree, covered in moss and mold, insects and plants, all of which create the necessary biodiversity needed to make vibrant tea. We hope your cup fills you with such visions, each sip a breath of such clean mountain air.
We were also very impressed by the farmer's dedication to organic farming. He told us that they had formed a local cooperative much like the one that Mr. Xie has formed, training farmers to use organic methods and then helping to sell some of their tea cooperatively after they have received certification. Our guide proudly pronounced that more than three hundred farmers have joined the cooperative so far!
Another unique thing about the farm where this tea was sourced is that all of the tea trees are seed-propagated, which is incredibly rare in this day and age. It is much easier for farmers to use cuttings, allowing for a uniformity that makes the farm easier to maintain and the leaves simpler to process. But as we have discussed in many issues of the magazine, something natural, essential and deep is lost when the trees are not allowed to reproduce in a natural way—cross-pollinating, which creates a more vibrant, natural expression of the tea's energy. As we walked amongst the trees, it was easy to see the result of this seed-propagation, since each and every tree was different: some had mutated to have reddish leaves, and they all were unique in size and shape as well.
Red Sun Rising has now been aged a few more years, but the liquor of Red Sun Rising still brews deep and red like its namesake—just deeper than before. It is bold yet sweet, powerful like a dian hong, with much less strength and power, and an added delicacy and refinement that bring grace to the table. Most red teas are best enjoyed in large cups or bowls, but this tea is to be sipped, much like an oolong. The Qi is like a morning breeze—fresh and rising up the way a fine oolong does.