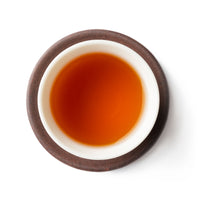 Recently, it was discovered through DNA analysis that some of the old, wild tea trees in Taiwan are actually a completely different species of organism. Though these trees have been around for centuries, the discovery was "new" to us, and the tea was therefore renamed "Camellia Formosensis" after the island's old name.
This amazing tea, called "Mountain Tea (Shan Cha)" by locals, is said to have been drunk long ago by early settlers. Some aboriginals claim that it was the "Tea of the Gods (Shen Cha)," drunk by their ancestors in ceremonies. These tea trees are actually the ancestors and heritage of the manmade varietal called "Ruby Red." That tea, also known as "cultivar #18," was bred using Shan Cha and Camellia sinensis var. assamica from Burma and/or Yunnan.
Shan Cha grows high up in central Taiwan, from 800 to 1800 meters. The oldest trees can grow above ten meters in height and live for centuries, if not thousands of years—we don't know how long, as they have not reached their potential lifespan. Unfortunately, such wild, forest habitats are threatened, like many Nature reserves in the world. This tea, is, of course, a splendid exception to this. The farmer preserves several hectares of wild forest, only picking the tea once a year and leaving weak trees alone if they show signs of stress. This living tea is completely wild, propagated by seed naturally without human intervention, and grown in chemical-free and completely untended, biodiverse wildness. 
Shan Cha is processed like a red tea, similar to Elevation. It has a very different flavor and energy profile, however. Like Elevation, Shan Cha is uplifting and awakening, but it is darker and bolder, with stronger hints of raw, wild honey and a much more vibrant Qi. You may also taste subtle hints of the wintergreen flavors that are so prominent in Ruby Red, as this is its mother. This is the perfect medicine for any morning, connecting us to Nature in a powerful way.