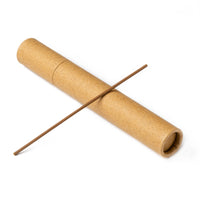 Vietnamese Hui An Red Clay Incense Sticks
These incense sticks were made by a local incense shop we have known for around twenty years. These sticks were made years ago, and so have a very good quality to price ratio. These sticks are made from pure, wild "Hui An" aloeswood from central Vietnam. They are made from a type of wood called "Red Clay," as it is reddish in color, especially as it ages. The fragrance is light and powerful, uplifting and dreamy. These are great for tea or for meditation.
Each tube comes with 33 incense sticks.