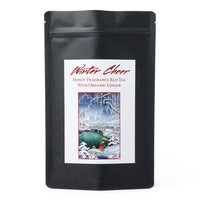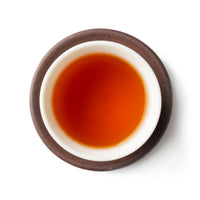 This is a combination of organic honey-fragrance red tea, so-called because the tea leaves are bug-bitten, giving it a slight fragrance like honey, and organic ginger, both grown and harvested by our dear friend Mr. Xie Yuan Zai.
Tea is a very absorptive plant and will take on the fragrance and flavor of whatever is around it. Tea trees grown near camphor trees, for example, will taste like camphor. (This is also why it is so important to store our tea away from the kitchen and all its spices, fragrances, oils, etc.) There are two ways to infuse tea with the fragrance and flavor of any flower or herb—either you steam it in, or infuse the wet leaves or you age the tea with the herb/flower. Most often, the herb or flower is added to warm wet leaves to infuse as this method is much quicker and allows the tea to take on the flavor of the herb/flower during production, which means it can be sold immediately. Aging the tea with the herb is more subtle, deeper and more powerful. Depending on the herb/flower, this process takes three to six months minimum for the tea to take on the fragrance, flavor and energetic properties of the herb/flower. We chose this aging method way back when and allowed the tea to age in our Center for several months, letting the flavors of the organic ginger warm and spice the honey-fragrance tea. It is warming and delicious! 
Each bag is 150 grams.